WSU Expulsions and Suspensions
A student disciplinary action should be taken seriously from the moment the student receives the notice from the Office of Student Standards and Accountability (OSSA).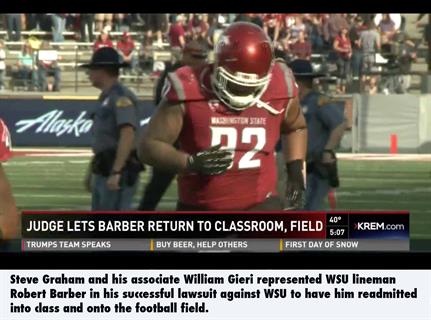 Many times WSU students wait until they have been expelled before they tell their parents or they seek the advice of a lawyer. It is best to consult with a lawyer immediate, so he or she can give guidance as to the best way to proceed.
Common WSU disciplinary allegations that could lead to suspension or expulsion include:
Sexual Assault
Cheating or plagarism
Repeated alcohol violations
Possession of drugs or controlled substances
Domestic violence
Marijuana use in the student housing or dormitories
Fighting with other students
Our law firm has a proven track record of winning expulsion hearings, and getting expulsions reduced to lesser penalties. We have represented students on a variety of issues across the state.
Our clients have included:
WSU football players and other athletes
Fraternity and sorority members
International students visiting from China, Saudi Arabia, India, etc.
Local Washington residents accused of criminal offenses
Graduate students in a variety of programs
In any student disciplinary case it is important to be familiar with the legal requirements that the school must follow. For WSU, the relevant legal provisions are found in WAC 502-26. This law also includes important rules that a student must follow. In this code, there are important due process rights that a student is entitled to. Mr. Graham's office also handles criminal cases in Pullman, Washington.