Hunting Charge Lawyer
Steve Graham was rated one of Spokane's top five criminal lawyers by the magazine Spokane - Couer d'Alene Living. Mr. Graham has done several of this states major felony game violation cases. The statutes pertaining to fish and wildlife violations are some of the most complex laws in the State of Washington. Even hunters trying their best to comply with the law can get charged with a fish and wildlife crime.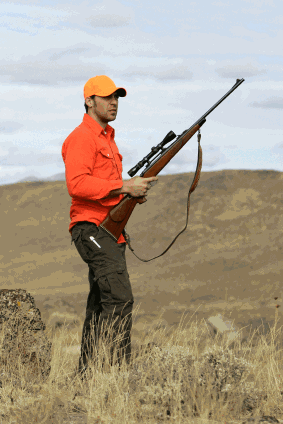 The statutes in question can confuse even criminal defense lawyers, prosecuting attorneys and judges. Hunting charges can lead to fines and even jail time. Convictions can also lead to revocations of hunting privileges. It is important to have a criminal defense lawyer with experience on fish and wildlife cases. Attorney Graham has that experience. Mr. Graham has done numerous felony and misdemeanor criminal jury trials for charges pertaining to deer, bear, cougar, and elk. Mr. Graham has also successfully defended numerous WDFW forfeiture actions.
Fish and Game Charges
In Washington, fish and wildlife agents will issue tickets or citations for misdemeanor or gross misdemeanor charges such as Unlawful Hunting of Big Game in the Second Degree, or Spotlighting Big Game in the Second Degree, or Failure to Notch Tag. While these tickets look much like an infraction, these charges are criminal offenses. Felony charges include Unlawful Trafficking in Fish, Shellfish, or Wildlife in the First Degree, or Unlawful Taking of Endangered Fish And Wildlife in the First Degree. These felony charges are served by a complaint or "information" written and drafted by the prosecuting attorney.
The game department of today is not like it was 20 years ago. The department has become more and more aggressive in investigating and prosecuting perceived violations of the law. The prosecutors who handle such cases are specially trained. WDFW investigations can proceed for years, and the department is equipped with the latest surveillance gear and scientific testing capability. Their interviews can include ruses and threats of forfeiture of property such as rifles, trucks, boats, etc. You need a criminal defense lawyer that has a history of fighting and winning against the game department. As well as Spokane, our firm has experience fighting such cases in Okanogan County, Stevens County, Pend Oreille County and Lincoln County. See also our video on WDFW violations.
If you are accused of a hunting offense as mentioned above, or charged with any other offense related to closed season, closed area, possessing over the legal limits of fish or wildlife, killing of protected and endangered fish or wildlife, or forfeiture, call Mr. Graham for a free consultation at (509) 252-9167.