Trial by jury is a quintessential part of the American justice system. Yes, it sometimes ends with some pretty controversial results, as with OJ Simpson, George Zimmerman, etc. But it is enshrined in our Constitution and most of us wouldn't have it any other way. Me included.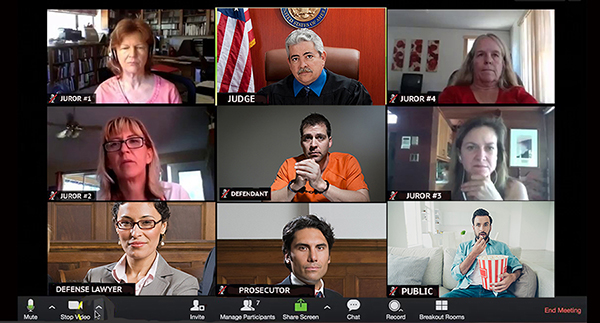 But the question is, how in the hell are we going to conduct jury trials in the age of the coronavirus? Well with a few little tweaks to our system, we can be back in action.
Conduct Jury Selection by Phone or by Individual Video Conferencing
Let's face it. The current way of conducting jury selection is terrible. About 70 people are herded in like cattle, made to wait and wait, and they have to sit there while other people are questioned. They also have to answer all those personal questions in front of everyone. So that embarrassment is bad enough, but now, in a pandemic, it is prospective jurors faces contagion. So, let's change it. Have the lawyers and judge do it over the phone in 10-15 minute increments prior to court.
Video Testimony
Under current legal precedents, there is no way a judge would force a defendant to have a jury trial without live, face-to-face witnesses. But the legal precedents never said that face-to-face witnesses is an absolute rule. There is little question in my mind that if a witness was truly under quarantine, that an appeals court would find their participation by Skype of Zoom as constitutionally acceptable.
Exclusion of the Public
The 6th Amendment provides that a defendant has a right to a "speedy and public trial." The defendant can insist that the trial be public, and the public can insist that they can attend. During the Spanish Flu, this right often fell by the wayside and the public was excluded from jury trials if gatherings were banned by public health department. See, for example, Colletti v. State, 12 Ohio App. 104 (1919). In 2020, the easy solution is that the public would be able to observe a trial by video phone such as Skype or Zoom. Additionally, if the public section of a courtroom is empty, the jurors would have plenty of room to space themselves out.
As you probably noticed there is a lot or video technology needed in courtrooms. It may take some judges a little getting used to this. But it also took everyone a while to understand that doctor could meet patients through video. And actually, since the pandemic, there are video cocktail parties, birthday parties, and AA meetings. All this video might not be a defendant's ideal way that he wants his jury trial, but it beats not having any jury trial at all. And if the current situation stays the same, we might as well get used to it.