Spokane Lawyer for Appeals of Criminal Cases
A "guilty" verdict at the end of a trial often leaves a defendant (and his loved ones) crestfallen. It is important to remember that it is the appeals courts in Washington that have the final word on whether a person has received a fair trial. Overturning a conviction is hard, and it is important that the appellate attorney take a thorough review of the transcript and record and look into any issues of misconduct by the prosecutor or jury. At our law firm, both attorneys Steve Graham and Anthony Martinez have argued at our state Supreme Court, and have assisted on appeals on everything from DUI to homicide. Additionally, the have handled federal habeas corpus cases and federal appeals cases at the Eastern District of Washington and the Ninth Circuit Court of Appeals.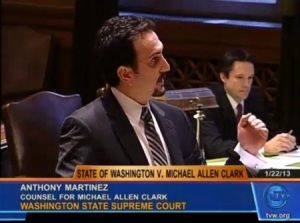 The important thing to realize of about appeals is that they often take about a year or more to get resolved. It is important that the appeal deadline is met. Typically, a person filing an appeal has, at most, 30 days to file for an appeal. Once the appeal is filed, the attorney has to designate what parts of the court file he wants sent to the appeals court, and also decide what parts of the trial he wants transcribed. The transcription can often take 3 or 4 months, particularly on a major trial that is 2 or 3 weeks. Once the transcripts care completed, the defendant's lawyer and prosecuting attorney are both given a certain amount of time to finish their legal briefs. The biggest wait is often the time it takes for the appeals court to hear the case and to make a final decision. The deadline for a PRP or Personal Restraint Petition is 12 months, and this avenue of for inmates who were not successful in their direct appeal. Similarly the deadline for a Habeas Corpus Petition is 12 months. The statutes that govern these petitions (and the courts) have become more and more strict in terms of deadlines.
It is always surprising to lay people what the issue is that wins an appeal. It is usually a technical issue with the way the jury instructions were written or denial of a constitutional right, such as the right to cross-examine a witness or the right to an open and public trial. Generally speaking, a defendant cannot appeal a case because a witness lied or because the jury believed the wrong side or because a case was largely circumstantial.
If you have an appeal case or personal restraint petition issue that you would like to discuss with one of our appeal lawyers, please call our office for a consultation. We can discuss the matter with you and talk about how we may be able to help. Our office can also assist with requests for prosecutor re-sentencing petitions.