Spokane DUI Lawyer
Arrested for Drunk Driving? Call
(509) 252-9167
Mr. Graham did his first DUI jury trial in 1994, and he has been fighting and winning DUI trials ever since. Mr. Graham's expertise is recognized throughout the region, and he is often interviewed on the subject of DUI by the local news, or such prestigious publications as the Wall Street Journal. Mr. Graham was rated one of the top 5 criminal defense lawyers by Spokane-Living magazine.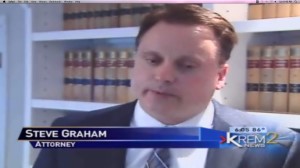 Mr. Graham recognizes that the breath test is not as accurate as the police might hope, and he has hired nationally recognized experts to testify in his cases. The breath test can be affected by certain medical conditions, and alcohol particles can be trapped in dentures or in chewing tobacco. The breath instrument can even by thrown off by breathing patterns or running a high fever. His office will make public records requests to obtain training materials, maintenance records, police video, and more.
If there is a lot on the line, you owe it to yourself to talk to our attorneys who are serious about fighting your case and doing everything that can be done to protect your future.
Minor Operating a Vehicle above 0.02 BAC
If you are under the age of 21, and you are found to be operating a motor vehicle while your BAC is at or above 0.02% in Washington, then you will face harsh penalties for conviction, and it is crucial to your future that you aggressively fight these charges.
Driver's License Suspension and Revocation
DUI convictions often result in serious penalties, one of which is almost always a driver's license suspension sentence. This can last anywhere from a few months to several years depending on your charge, and you will need to reapply in the case of driver's license revocation.
Request Your Free Defense Consultation
If you would like to discuss your case or circumstance with Steve Graham, feel free to call. Attorney Graham does free consultations on DUI cases. We understand that being charged with a DUI can be intimidating and can turn your life upside down, however, it may not be as bad you think. The police do make mistakes! And we can find them.
Talk to our lawyer, who understands how your charges work in our court system. You will receive his honest opinion, and he will listen to you and answer your questions.