Spokane County Criminal Defense Lawyer
Arrested? Fight to Protect Your Future! Call

(509) 252-9167

.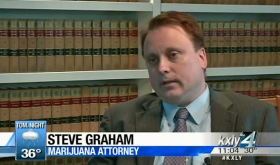 Being charged with a crime can represent a low point in a person's life. You need an attorney who is as passionate about your case as you are. Criminal charges can be beat!
Steve Graham has won as many as 7 felony trials in a row. In 1998, he became the state's youngest elected prosecuting attorney. He knows how prosecutors think. Now, for 15 years he has been a private defense lawyer.
If you have heard Steve interviewed on KCAA 1050AM (Los Angeles) or CKWX 1130AM (Vancouver BC), you know that he is knowledgeable about criminal law. If you have seen his murder trials in The National Enquirer, you have seen that he can handle high publicity cases.
Why Choose Our Defense Attorney?
20 Years of Proven Legal Experience
Former Prosecutor with a Winning Defense Record
Client-Recommended Counsel You Can Rely On
Free Consultation to Review Your Legal Options
Request Your Free Defense Consultation
If you would like to discuss your case or circumstance with Steve Graham, feel free to call. Attorney Graham does free consultations. We understand that being charged can be intimidating and can turn your life upside down, however, it may not be as bad you think. The police do make mistakes! And we can find them. Talk to our lawyer, who understands how your charges work in our court system. You will receive his honest opinion, and he will listen to you.
Call (509) 252-9167 today for a free case evaluation!