Spokane Drug Crime Lawyer
Arrested for a Drug-Related Crime? Call

(509) 252-9167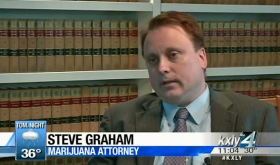 Being charged with a drug crime in Spokane, Washington can result in some very serious penalties if you are convicted. It is important that you have skilled representation on your side that can help you aggressively pursue a favorable outcome in your case.
Attorney Steve Graham is a successful trial attorney with proven results, and he can put his extensive skill and experience to work for you in your case if you choose to work with him.
You can look to this skilled lawyer for representation in any of the following issues pertaining to drug crimes:
Possession
Sales or Delivery
Trafficking
Manufacturing
Drugged Driving
And More
Why Choose Our Defense Attorney?
20 Years of Proven Legal Experience
Former Prosecutor with a Winning Defense Record
Client-Recommended Counsel You Can Rely On
Free Consultation to Review Your Legal Options
Request Your Free Defense Consultation
If you would like to discuss your case or circumstance with Steve Graham, feel free to call. Attorney Graham does free consultations. We understand that being charged can be intimidating and can turn your life upside down, however, it may not be as bad you think. The police do make mistakes! And we can find them. Talk to our lawyer, who understands how your charges work in our court system. You will receive his honest opinion, and he will listen to you.